Looking for new boards particularly for lighter winds and difficult conditions we can encounter here. These are my tests of Freestyle Wave or Wave, Quad, Tri and Single boards!
2013 Starboard Quad 82L 58.5cm
top ⇧
Finally, I found a board to fill my medium-light wind (15-20 knots) requirement. And, the winner is ... the 2013 Starboard Quad in its 82L version. It wasn't easy and it pretty much came down to what was available in my price range. I could not test the board before purchase so I relied on online tests and my experience testing the 2010 86L earlier model. So far the testing has taken place in very light winds between 12 and 18 knots and small waves (~1m), using a 2013 Goya Eclipse 5.0 as the motor. Settings: Earlier on I set it slightly back of the recommended setting, lately I have it set 2-3cms farther back, which seems to be my favorite setting regardless of boards. Footstrap position has been set as far apart as possible, this turned out to be not as spread out as I would have thought for a wave board. Fins are the stock Starboard Drake 13cm out back and 11cm up front. EDIT: Latest settings - front straps middle and back strap forward (to get more drive). Mast foot middle maybe a touch forward.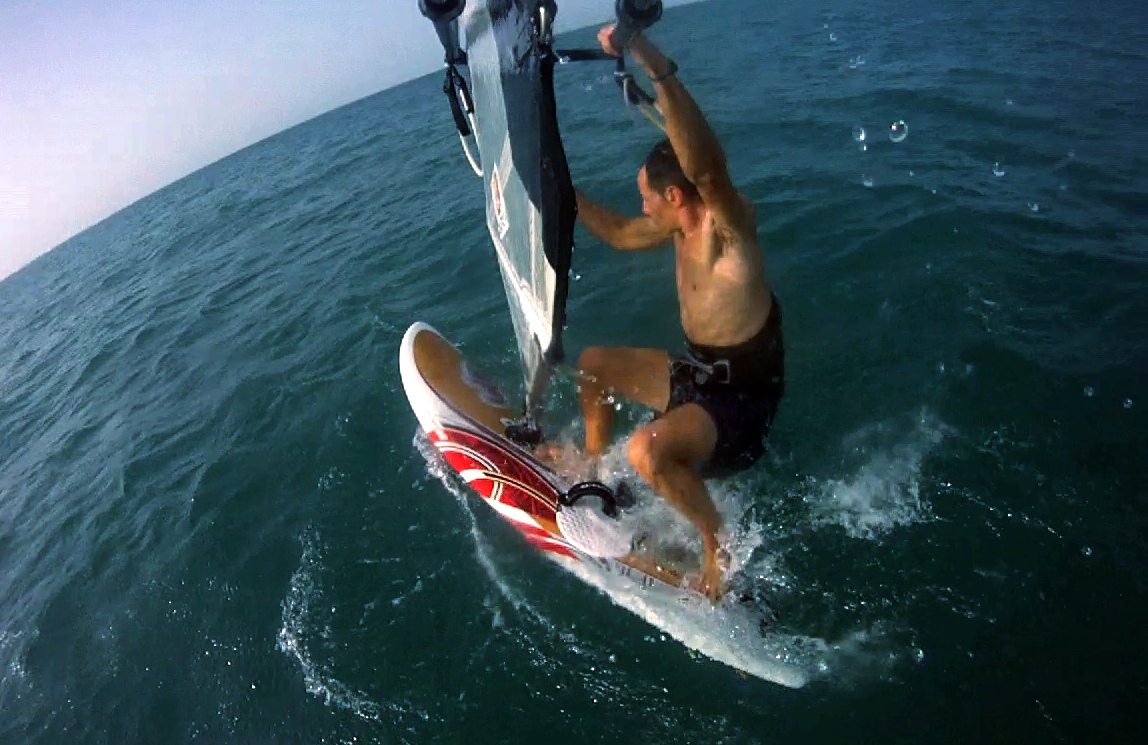 Fins:
For a light wind use, I would possibly look for more drive. I have yet to experiment with the wide variety of settings that a Quad offers. So far, I have tried the board with fins close to middle, fins farthest apart, and big fins up front. I had the most drive with bigger fins up front, but lost quite a bit of reactivity in the turns. It felt as if the board was really stiff to pivot. There was good drive with fins all the way apart, small fins up front, but lost some precision on tighter turning radius. My latest setting is 1cm off of the most forward on the front fins, and 1cm off of the farther rear setting on the back fins. I also drew a ruler on all boxes which were placed perfectly on the board (measured from the center line of the board). EDIT: To get more drive in lulls and early planing I placed 11s at 1cm off the front and 16s (MFC Flex) out back at 1cm off the front as well. This is a great light/medium combo. Only overpowered on 4.5 would I replace the 16 for the stock 13s.
Footstraps:
The stock footstraps are not my thing, they feel too soft. They were featured in my
footstraps video
. I like mine "rigid," inserts have a 15.5cm spread, which is a touch too much for me. So, I used assym washers to reduce the spread and placed my custom footstraps (JP internal strap + inner tube + JP gel + Dakine Primo wrap) aaaaah so nice!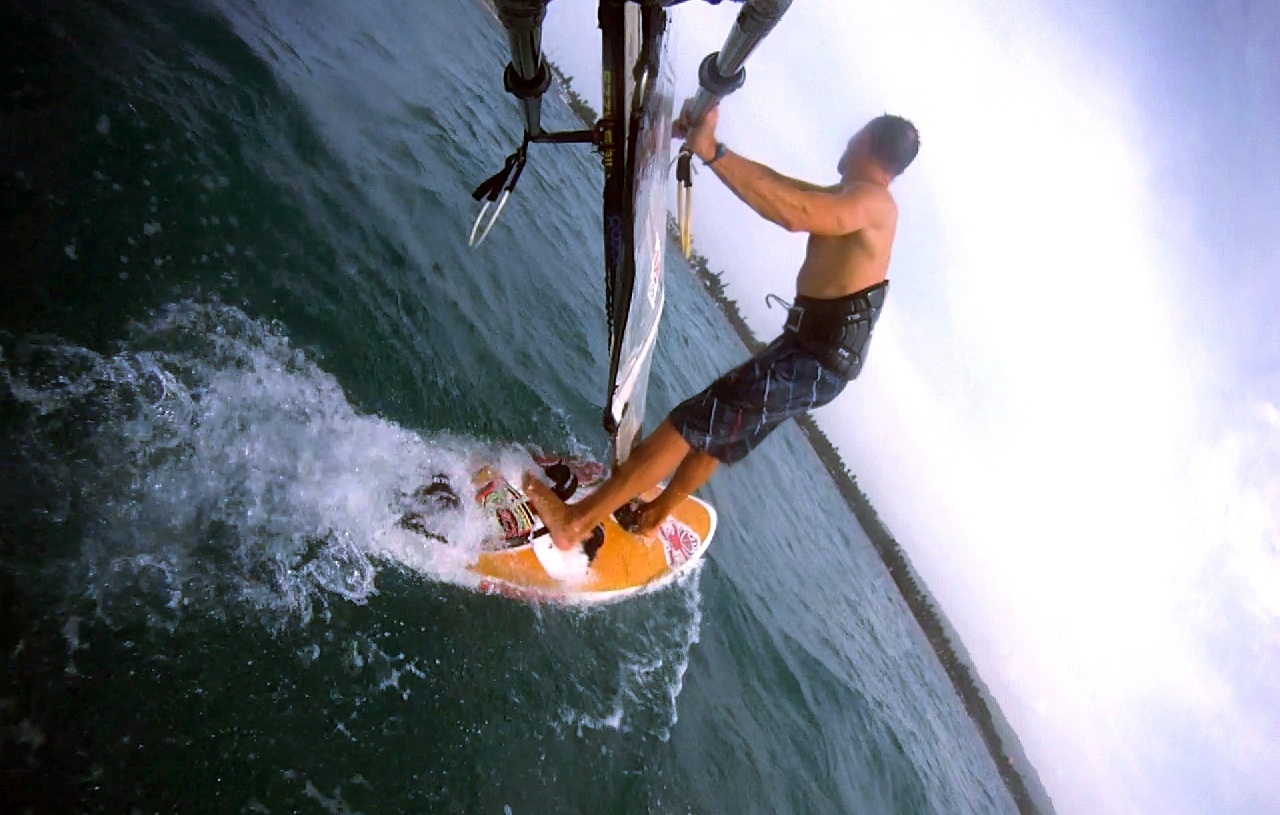 Slogging: First impression confirmed the much larger volume, feels definitely more like 86-87L. The board feels stable both side-to-side and front-to-back. The tail doesn't sink and the nose doesn't dive even with awkward footing in very light winds. This allows to regain balance during transitions more easily, it's forgiving, much easier than any other ~82L I've tried. The board also displays nice stability regardless of water state, it doesn't head upwave in lulls or in strong current. Planing Start: The Quad requires a near full sail (or some slope) to pop. You can be underpowered, but you have to have some back hand. However, it doesn't push water, one pop and it's off. Much like the 2010 version, I didn't notice any particular drag. The planing release is progressive, not sudden and without rounding upwind. Planing: Immediately, I noticed a soft drive from the fins. Unlike the heavy finned 2010 version, the 13s + 11s feel more discrete. In light winds, mostly underpowered conditions, it won't scream upwind. Since then, I did back up the mast foot which may help in this area. I didn't notice any white underwater trailing lines from the fins, unless loading them up sideways at the cutback or on hard jibes.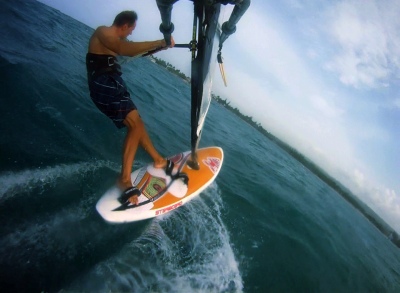 Jumps: The pop is interesting, it feels a little underwhelming and soft, it's more of a release without any "hit." Yet, the board leaps out of the smallest waves and wants to head straight up. The control in the air is amazing. Tail landings aren't as smooth as some other pin-tailed boards, but the smaller fins offer some welcome side load relief. Chop: The mono concave offers ok comfort, it doesn't slap on the water, but doesn't glide as smoothly as the JP Freestyle Wave for example. The board rides close to the water with a nose high enough to clear eventual non-cooperating pieces of chop. It keeps its momentum nicely in disorganized chop.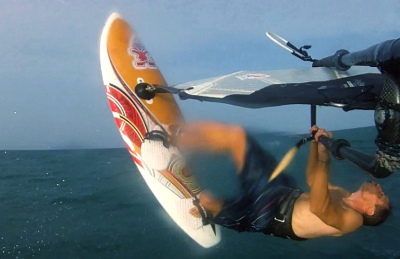 Jibes: I have yet to enter a jibe at full speed, however, the one thing I noticed is how much spray is thrown out the back when carving. The board keeps up its curve even when going over rough chop. I didn't need to pay so much attention to find a more friendly spot to jibe on, it's quite forgiving. The board responds easily to foot input without requiring lots of weight to turn. It does feel wide and has a more "pivoty" feel than a carving feel. It's a little hard to explain. Maybe more of a "floating" sensation.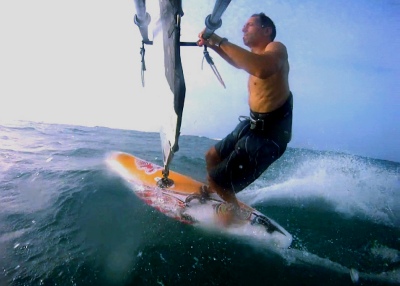 Surf: Even with the lack of waves, I tried to go front-side on anything I could find. I did spin out dropping in a little too abruptly, so I need to watch for that. The board's rail is very forgiving, and look how much spray is thrown just from riding very small wave at slow speeds! The speed is maintained well through the turn, it doesn't accelerate suddenly nor slows down abruptly when hitting chop, it's easy to balance over the board. I just went for conservative turns, maybe backed up a touch and it worked really well. EDIT: A nice storm pushed off some interesting waves, this made me notice that when I'm a little far down a wave I can still turn around and hit the lip far behind me even in onshore conditions. In clew-first, the speed and trim of the board are easy to control, and this allows to change trajectories while maintaining momentum.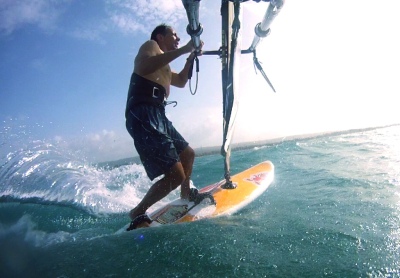 Conclusion: With only light wind riding so far, I'm very satisfied with the board. To summarize, it has the stability advantage of a bigger board, but the looseness of small fins. I have never turned so short with a board and I can't wait to start throwing buckets of spray with it. Also, I am looking forward to jumping as the control mid-air is really nice.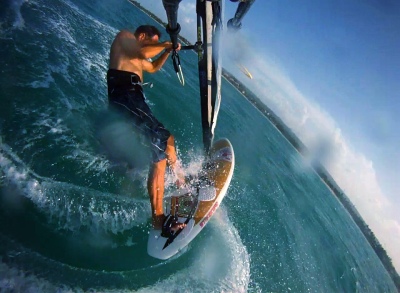 2014 Fanatic Freewave 86L 58.5cm
top ⇧
I am (still) looking for a light wind weapon for waves 1.4m to 3m mostly side-on. Test conditions: 13-20 knots, 1.4m waves 10 seconds. Aside from wave size, pretty much exactly the conditions for which I'm looking to get a board B) ! Settings: Mast foot at 127cm, pretty far back, straps spread out max, Thrusters all the way to the back for max looseness. EDIT: Ultimately set to 126cm, as far back as it'll go with my two-bolt plate. Slogging: First impression was that the board felt playful under feet, feels spot on 86L. It's stable "up and down" but doesn't track super straight (the chop force steers the board a bit), I could feel the wider nose. For example, the 2010 Starboard Quad had better float more balanced. Planing Start: There's a slight drag but not as much as the Single Thruster from JP, it releases easily and takes off, no worries. The board is very stable and forgives sloppy footing when getting in the straps.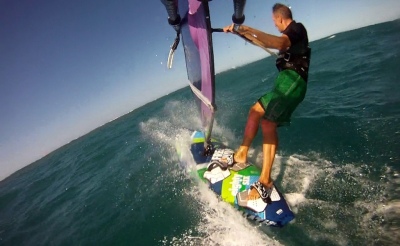 Planing: Wow is the board overfinned! It sails quite close to the water so the nose often hits the chop slowing its progress. It feels like sailing a Slalom board with the mast foot too far forward in a more fin grinding than upright more maneuver-oriented type of stance. The fins bite nicely but the nose remains low. It stays on a plane well and has a very stable horizontal trim. It keeps a lot of speed but rounds upwind in the lulls slightly. It feels a little difficult to transfer power onto the mast foot to keep the board downwind. EDIT: With the mast foot set at 126cm (beyond this my two-bolt plate will be off the track) the board felt a touch better but still pearled in small chop. Maybe a smaller central fin would help lift the nose up? I noticed that the earlier version had its track farther back 2cms looking at the distance to the first front strap screw line. In light conditions it was much faster than my 2006 Freewave 77L (on a 19cm) and much surfier.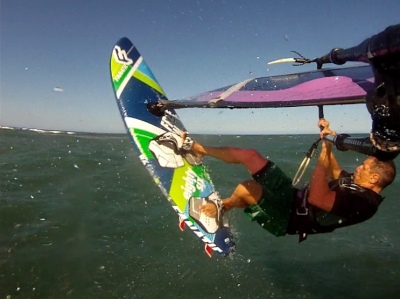 Jumps: The pop is good, but a little underwhelming giving its program... sad. Everyone can see my fins? Good, cos there's not much else to see :D ! Chop: It bangs a bit, I was expecting more comfort. Fins: For a wave use, 5.4 and less, I'd need something like 17cm and 2x10, here in 19 and 2x12, a 6.0-6.5 would take more advantage of their size! I also wished that the rear fin was a touch more forward (Power Box, cannot be adjusted). Footstraps: The footstraps lacked padding, I got a sore rear foot after the short session. They did release nicely and feel soft.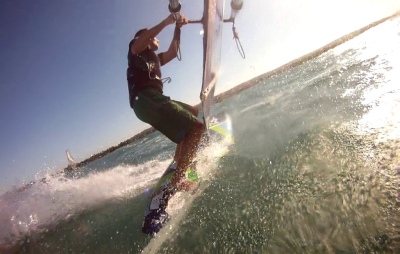 Jibes: Because of the nose catching, at the jibe, it can push a little water when the nose "falls" into the chop, maybe someone heavier or backing up the mast foot some more could help. The turning radius being a little wide, it's bound to be hitting some chop too. After backing up the mast track to 126cm, it did jibe better, really nice and smooth, it does have friendly rails. Surf: Within the Freewave spirit, the rail-to-rail transition needs to be a little "forced," otherwise with a more stretched rocker it can take off a little too far, it bounces a bit, but the rail goes well in the water without causing any issue on the turn or speed. I didn't experience any rail catching when riding flat in clew-first switch stance. It gives good confidence to commit down a non-perfect wave face :) At the top turn, I did feel too much resistance to slash tightly, but that's a little normal given its application. EDIT: This was also improved by backing up the mast foot. I thought it had some good speed out of the bottom turn, good small wave potential.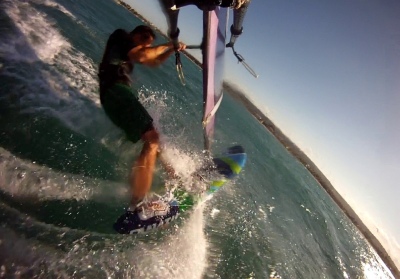 Conclusion: After a second test, I confirmed that the board has a difficult progress that is hurt by chop and current, causing me to lose harness lines tension. Its lateral trim is quite good but the sail falls back oversheeting a touch, the board rounds upwind. Although this is all quite subtle, it causes extra effort to sail and makes it difficult to come over the board for jumps or to deal with oncoming swell (going through the reef). After moving the mast foot all the way back in the mast track, I was able to get some good speed out of the bottom turn and better pivot up top. It cannot be moved any farther back though. I could feel the board's size, sailing and at the surf where the board's leverage hinders precision. Maybe the fins play a role, but I felt it more at the shape level, maybe someone heavier can take advantage of this? Here I'm giving it all I got and cannot slash as much as I'd like: So I left this board a little underwhelmed. As a Freewave, I was expecting it to be working "out of the box." I could see this board be best in small waves (to generate more speed) with front end sliding moves (thanks to its vertical axis pivoty feel) but with minimal chop. I would also look to get smaller fins for it to improve precision and possibly chop comfort.
2017 Fanatic Freewave STB 85L 57.5cm
top ⇧
Oli from ION Club Cabarete let me try one of his new 2017 Fanatic Freewave Stubbies. Let's forget about their strange look for now and see how they ride! Settings: Neutral, mast track, straps and fins dead center. Fins: 19 and 2x12, I found them a little looser than on the "classic". A little stiff at the top turn, it's important to let the board come out off the lip because it won't slide off nicely when using the whole rail on an early peak. Footstraps: I liked them, soft but grippy, got out when I wanted and controlled the board nicely, the pads were nice too.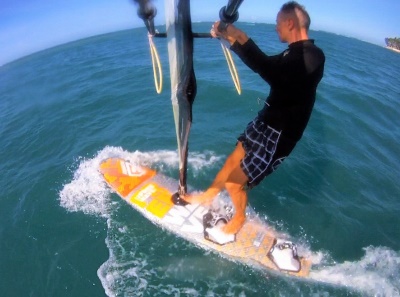 Slogging: First impression is that it floats exactly like an 85L board, volume is evenly spread out from tail to nose. With an excellent stability, the nose never went under or slid away from me during tacks. Backwind sailing was very easy, heli tacks the same. The nose is sometimes found under water but without being a worry. Planing Start: There's some drag similar to the classic Fanatic Freewave, the board glides off on the plane progressively but rapidly. Fins provide good support, as soon as speed is sufficient we can push off of them. The "classic" Freewave had a bit more bite possibly because the Stubby is a bit wider out back.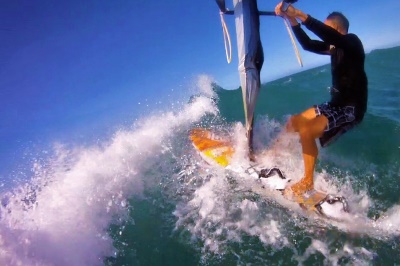 Planing: The ride is typical of the Freewave category, stable, directional, not disrupted by chop. It tracks well heading straight. The board stays quite flat on the water. Small lateral adjustments aren't easy to slalom across small sections on the water. The board likes to be on the plane to point upwind even when it's light, as opposed to slog which sometimes make up more ground. Lulls are planed through with ease. Chop: No problem, no matter the water state, the board heads dead straight. Jibes: On my first jibe, I was surprised, the board can turn! It really likes to be ridden off of the back foot so for jibe it can be quite playful. Only sometimes the nose can hit the water, while this was an issue on the classic freewave the stubby's nose slices into the water without slowing down nearly as much.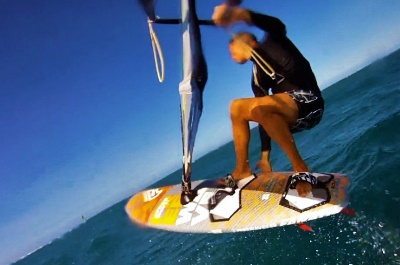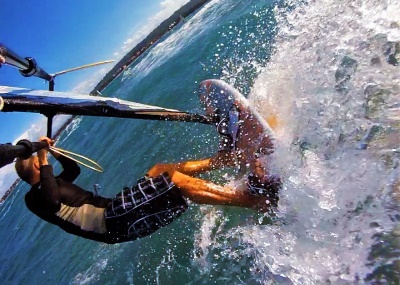 Jumps: I thought the pop was average (compared to a JP freestyle wave for example), it's as if the board was a little too flat on the water and lacked some liveliness. Also, in the air the board felt a little strange. Possibly because of the wide nose? Tail landings were really nice and smooth. I found that on nose-first landings the board didn't spring back as much as a classic board. Wave Riding: The stubby catches waves effortlessly, and its speed is very nice. It likes to be ridden off of the back foot even at slower speeds, we can stay higher up on the wave, handy when waves are large with little slope (mushy). The ability to make several turns on the same wave compare to a classic board is definitely there. A true skate board! On the front foot, it turns ok but speed is reduced, I thought the feeling was a little blurry, it's not unfriendly, it just doesn't spring back as it does on the back foot.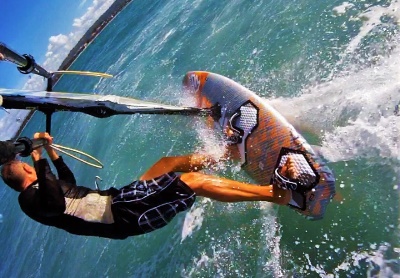 Top Turn: At the top turn, I found that the board needed to be set up a little higher to let more board out of the wave. Maybe this makes us put more weight back and ease the rotation. Full rail turns are just sticky and best kept for Twins or Quads! On the first photo, I caught the lip and slid across, there the board is happy and sprays buckets! On the second one, at the end of the turn, dropping back in, the nose catches. It's not a big problem but happens enough to be noted.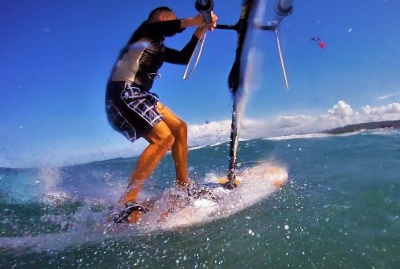 Bottom Turn: The bottom turn is really fast off of the back foot. Sometimes the nose catches (when dropping in from the peak, see photo). Backside, I am used to loading up my front foot and here I sent the nose under on my first turn (last photo). There must be a sweet spot to nail or maybe my technique is clunky but it's never happened to me before.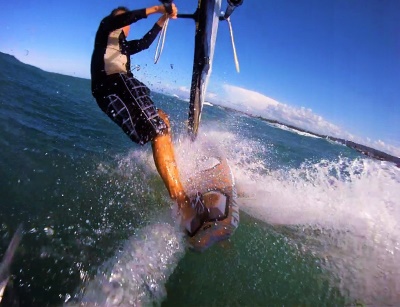 Conclusion: So how does it compare to a 10-year older freewave board? Following the test, I went out right after with my 2006 Goya Freewave 77L. Too bad it's not 85L to compare equal volumes but here are my few thoughts anyway. The stubby's top speed is below the Goya's but its average speed is higher especially in light to medium 5.0 winds. The stubby's nose often catches, it doesn't bother so much but on the Goya it's one less thing to worry about. My old freewave is more reactive, faster to plane, offers a greater pop, and has more bite when loading up on the whole rail at the bottom turn. However, the Fanatic is a lot faster when using the back foot, it planes and keeps the plane effortlessly. Slogging is much easier on the stubby. The top turn is easier with the Goya, it rides more precisely with more reactivity and is more playful in a straight line. In the end, different board styles, I like them both!
2012 JP Freestyle Wave 84L 58cm
top ⇧
First impression: The straps are awesome, I love JP straps so nothing new here, we can get a good control over the board yet easily come out when we need. I'd have them spread all the way out even for my small size (5'8"). It planes progressively and correctly. It's not super stable when slogging, it can round upwind a bit so it hurts planing by pushing some water. I believe moving the mast foot a touch farther back could help with this.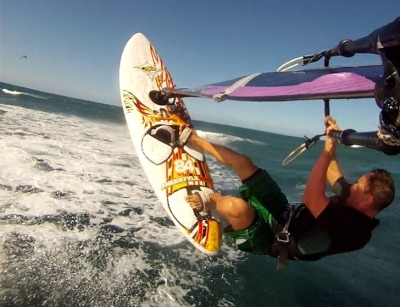 Planing: It keeps up the plane nicely and accelerate smoothly. The board felt very comfortable over chop, one of the best I've ever ridden. The pop is really good, it was interesting because it went high even though the impact from the wave was soft. Jibes: I could trust the board, bury the rail, it can turn hard if we want, really nice especially for a FSW.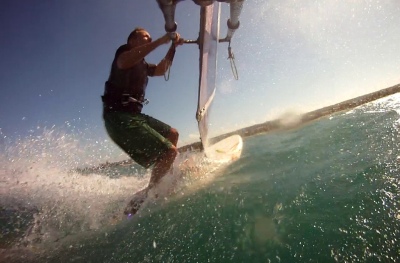 Waves: On a wave, wow huge surfing potential! Awesome. It's also very forgiving, maybe it lacks a little of precision, but by covering up the mistakes can't complain! It was setup with a 23cm single, as a Thruster should be even better. It slashes quite well, feels quite small in the tail. Tacks: Despite the looks, tacks are quite easy, no nose no worries!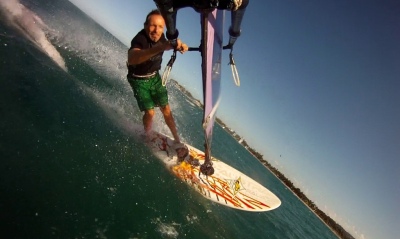 While it lacked a bit of tracking comfort in the light winds and planing wasn't immediat (could be helped moving the mast foot back a bit), it ate up chop superbly, jumped and surfed really well. The footstraps are great and it's easy to set up. For lighter winds, it would be a better board than its Single Thruster 93L for example, if we want to retain some wave potential. I felt like the board's limits were quite far!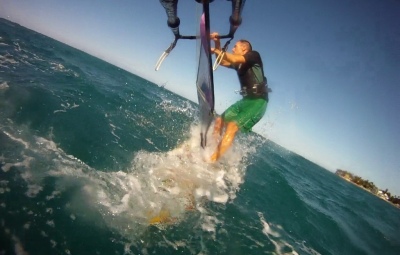 2007 Tabou DaCurve 85L 54.5cm
top ⇧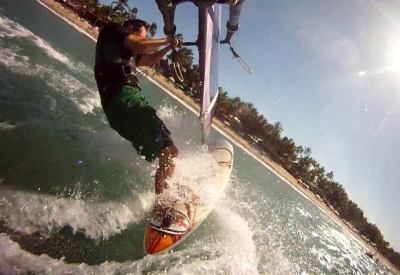 Next we have the good ol' 2007 Tabou DaCurve in 85L with a custom chopped up nose! And surprise, this board was about to change most of what I thought I knew about shapes... Non-planing: First, I climb on the board and it's super stable, its 54.5cm width is a non-issue. It keeps tracking straight despite disorganized chop. Fin was Sideon 23cm.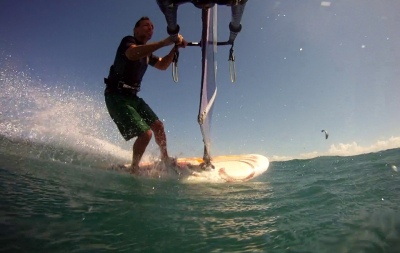 Planing: The board planes instantly. Because of how well it slogs, the board needs very little convincing to go. It keeps the plane in the lulls slows down until it stops without heading upwind (or upwave), much easier physically. The board is light, immediately feels comfortable, the lateral trimming is precise and easily adjusted thanks to well-designed deck and pads, fantastic. The plane is lively, even if it hits the chop, its rocker makes it slide up without causing any slowdown or any catching feel. Insane. Speed: This board is the fastest thing I've ridden in the waves, I have never planed so fast near the wind-shadowed beach! (keep in mind this was a light wind day) I even showed off right in front of Vela. Fin: The fin was 23cm in length from the Sideon brand, it had incredible low-end and remained extremely maneuverable. I could hardly feel it at the top turn. I'm used to riding a Fanatic NewWave 22.5cm on my Acid which gives me reliable bite and in the same time is easy to slash around, but this fin was much better at all levels.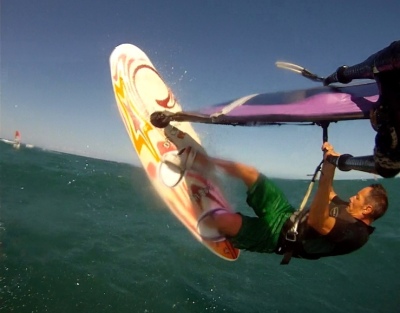 Jibes: Super easy, I could easily dial the angle, adjust the trim, it turns as hard as I wanted. Its tail reminded a bit of the JP Single Thruster. Jumps and Waves: The pop is correct (small tail) and sharp. It fits super well in the wave pocket and ultra-tight curves. Excellent.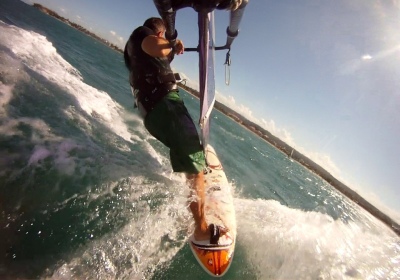 Findings: I was in desbelief to see how easy such a narrow and radical board was! One of my all-time favorites. And I thought that width helped stability or helped running bigger sails. I thought curved rocker hurt speed and early planing, well I just proved the exact opposite! It's by far the fastest and the least sticky board I have ever tested in a wave environment. Compared to my Acid in 86L of the same year, it has nearly zero common points and yet they are both supposed to be dedicated side conditions radical boards.
2012 Starboard NuEvo 86L 60.5cm
top ⇧
2012 Starboard NuEvo IQ 86L 60.5cm 2 x 16cm stock twins Straps: by Drake based on Dakine Primo but softer. Easy to adjust, they support the top of foot well, but lack a little side support (flat feet size 10). Weight: Average, balances out around the front strap. Volume: Right away, I recognized Starboard's genes, it reminded me of my 2007 Acid 86L. However, it floats a little bit less. Despite the 60.5cm, taking off from the wind shadowed beach wasn't as easy.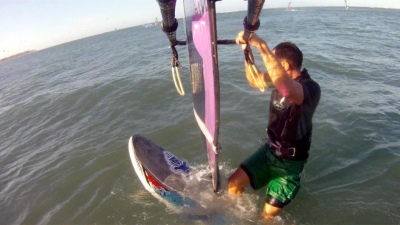 Planing Release: Progressive and not on/off, it feels a little delayed as the board moves around and lacks forward drive, it's not just from the fins, my Acid does the same thing. Cruising: Wide with a loose rear, it has a nice "skate" feel, footing needs to stay light. It needs strong wind or inertia (from someone bigger), for a light weight in medium winds, it doesn't work, at least for me. Precisely the same issues I've always suffered from my Acid but worsened by the twins and wider board. The syndrome of bent front leg and upwind rounding in lulls is there. I prefer having the board maintain its direction slowing the plane instead of rounding upwind stalling which makes sailing through the impact zone not as confident. Photo: A nice forward loop at Encuentro during the Master of the Ocean 2015 competition.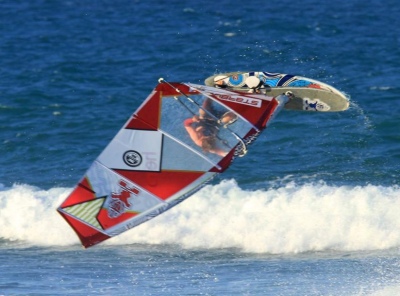 Because of this lack of drive, I have difficulties applying power onto the board. The rear squirms around hurting the power transfer. It's an active type sailing, the board trim always needs to be adjusted. At medium to low speeds, it's difficult. The board follows the different angles of the chop, a similar problem I have with my Acid. However, I felt the potential for sliding pivoting perfect for takas, etc especially on small waves or white water. Sadly for me, the lack of drive to go through the impact zone in light winds cannot work. I jibed it (with a soft loose rear) and headed back to the beach.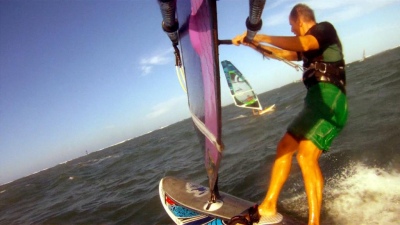 2012 JP Single Thruster 82L 57.5cm
top ⇧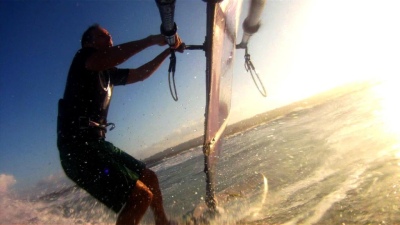 Straps: Much more connected, the straps held my feet in place better and don't progressively get shoved in after a few turns. Very good later support (nice for jumps). Weight: Heavy version so rather heavy! But not felt with sailing or jumping on the contrary. Volume: 82L seems dead on, with a 57.5cm width, I just need to watch the nose (228cm de long) and it slogs relatively easily. Planing Release: It sticks a bit to the water like another tri I tested (2011 Exocet U-Surf 84L) but not as badly. A little pop and off we go. Possibly changing fins (was 20cm + 2x9cm) could produce a welcome boost.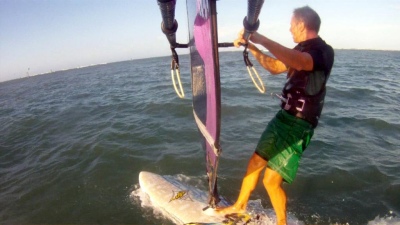 Sailing: From the Evo wow the trifin setup just bites the water like crazy and is super directional. With the help of my trusted NP Alpha semi I tried to break the fins loose and felt the threshold, but it's quite far. After landing a crappy jump, the tail bites fast which gets planing again faster! The drive reminded me of my freewave 77L, straight, no need to worry how to trim the board. I thought it rode a bit higher on the board than the Acid and a little harsher. Really easy though which allows to focus on where to go which relieves stress from crossing the waves. Speed: Weird thing but I felt like the board has a speed plateau, I'm not sure whether it's the confident ride which feels slow or what, but it feels like it accelerates and then settles at a certain speed.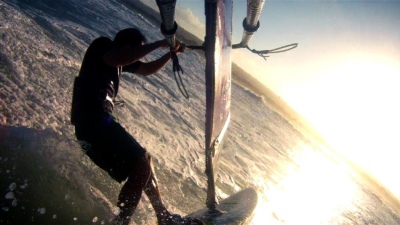 Jibe: With a more locked in stance, I feared that it wasn't going to jibe as well, well not at all, the board turns quite sharply, often times I found myself applying too much pressure (very seldom). Finally, a board matching my size! The slashing is a little bit more rear foot biased, I need more time on the water to try committing with the full rail engaged. Surf: I don't know whether the conditions helped, but I found that the board kept its speed through the bottom turn really nicely which opened up access to sections I would have never been able to get to (I had read this before but never experienced it!). It holds its turn nicely and may not be as front foot radical as the Acid in terms of having its full rail engaged biting into the turn.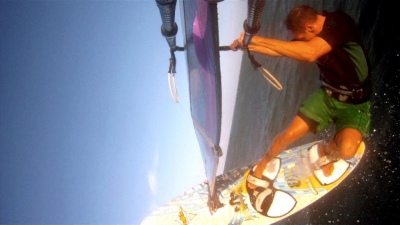 Jumps: The board has a strong pop, felt light in the air and easy to control. It reminded me again of my Freewave 77 and inspired lots of confidence. It would be amazing with a 5.0.
Conditions and Findings
top ⇧
Here are my findings after testing the Starboard NuEvo and JP Single Thruster. Earlier, when light, I went out with my 105L to scope things out (volume + freeride board = stability and easy planing no matter how low the wind drops) Mast high on the right, had to avoid being at the wrong place at the wrong time for sure... Conditions: - Waves: 2 to 4m (slamming pretty hard)
- Wind: 15-23 knots
- Me: 70kgs (wet)
- Sail: 2009 Neilpryde Alpha 5.4 (strong downhaul, average outhaul) Mast high here too. I was debating going down this one (probably would have imploded on my 105) so I went to kick out when my rear foot tripped out of the strap. That's when I heard a kiter falling off the lip of the next one scream something. I turned around a saw a mast high wall coming straight at me. I gave up on jibing and started pumping! The wave slope built up nicely and I took off like a bat out of hell, pfeeew, chills running down my spine type thing, the noise from the wave was insane (and I wear ear plugs!)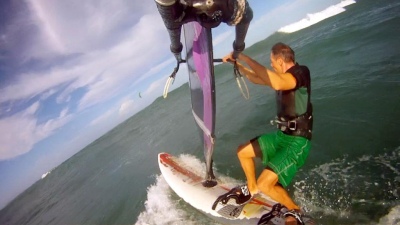 Findings: I confirmed that most of the behavior resulted from a shape and not a fin setup. I consider my Acid closer to a twin in this case with more of a front foot bias. While the Thruster is closer to a freewave cruising with a loose back foot bias at the surf. So, we can have a slim pin tail board which still tracks forward comfortably. The Thruster also reminded me of the wave cult by RRD, same program, same tracking feel, but still jibed beautifully. And, I should have ditched my Acid a long time ago since it doesn't fit my style well for something that is more stable to sail.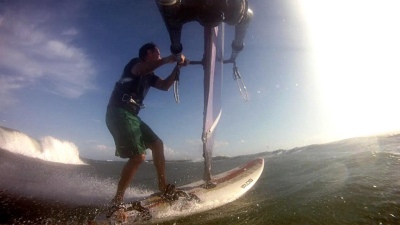 Volume and Performance
top ⇧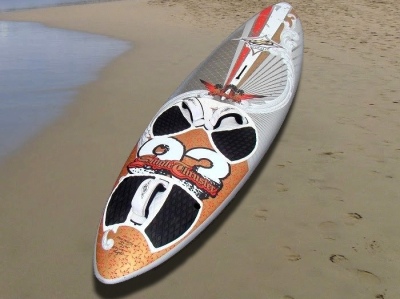 In super light winds today (13-17 knots) I got to try two more versions of the Single Thruster. The 93L, with 20cm + 10cmx2 setup, it did feel a little bit bigger than the 82 but quite draggy in light winds. Takes some wind to get it to lift. Definitely overfinned for light underpowered days. The jibe and surf felt similar to the smaller version with more backfoot because the volume was added in the middle and the nose, my take is to keep it as reactive. Then I tried the 99L version and it felt much bigger with more volume again under the mast foot, it made the rail mid-section fat under my hand. I tried it in single mode with my 22.5 fin. The board was slightly more free, but not necessarily a great early planer, the cause was the lack of volume in the back. The best way to plane early is to ride a swell, but it won't go take off as fast as a fsw in the light, it has a more "fragile" take-off which can get upset more easily than a board with more rear float. Now, they all tracked great, they aren't as technical to ride as my Starboard Acid, the tri-fin setup makes it go upwind slightly better. I'm comparing 20cm 10cm x 2 and 20cm + 9cmx2 with single 22.5cm. The 20cm of the tri needs to be sized down to be closer to a true thruster. I bet they ride fine with just the 20s! Anyway, so for a light wind board, I think it'd make more sense for me to look at something with more volume out back to help with lulls, early planing.
2010 Starboard Quad 86L 60.5cm
top ⇧
The quad had its stock 16 x 2 fronts + 12 x 2 rears combo in their carbon version.
It has a more even volume distribution which resembles more freewave boards so I was expecting better slogging and more comfortable planing. It also felt quite light. Footstraps: Most of you know my obsession on footstraps (you can check out my detailed video in my signature) and the Starboard Drake footstraps from 2010 are pretty terrible to me. First I can fit about two fingers beside my foot when inside and I wish they were more ergonomic feeling. In 2011, they moved onto their "Dakine primo" type strap with an adjusting scale which helped some. The JP footstraps with the "gel" type of padding felt wonderful, solid and they hold my foot perfectly in place. Slogging: The first thing I noticed about the Quad was that it slogged itself! Of course it's quite wide, but it feels well balanced and never once nose dove on me even when not careful with footing. It did feel like it was a size larger. My Acid 86L doesn't float nearly as well. On the JP, the volume is definitely a little bit more forward. It gets good firm contact with the white water to pop over it. It was also easy to slog, but maybe felt a bit more "tilty" and rides a bit lower in the water. Overall the board feels a bit smaller than 93, it's true of the 2012 82 model as well. And, from what I read true as of newer versions too. Planing: I was expecting quite a bit of drag from the Quad after experiencing the drag from trying out Tris, well I was wrong. The Quad popped on a plane more suddenly than the 93 JP. The JP drags for a while and needs to accumulate speed before taking off. I wonder if it can be addressed with a different fin setup (owners feedback on this?). The Quad felt like it was pre-planing farther out of the water, so the JP had to do more work to get out of the water. Could very well be the more volume/width out back from the Quad.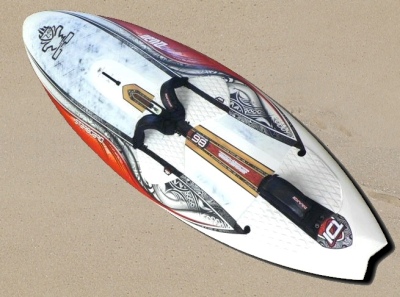 Once on a plane, the Quad felt fast and this is in very light winds (12-16 knots and 5.4 for 70kgs). It accelerated nicely off of the slope of some chop, goes upwind without issues. The JP on the plane is nice too. Neither board slows down dramatically in lulls and round upwind, they track wonderfully which gives me the confidence I like when crossing the reef waves. The Quad did feel fast and I know from earlier testing that the JP does feel like reaching and settling for a top speed. Waves: Without much wind, I slogged quite a bit through the waves. I picked up my first wave on the quad and similarly to taking off on a plane, the board nearly instantly planed once the wave provided some slope. I moved back in the straps and started my turn, when oops "something" caught, but then it took off and zoooom, it flew down the wave with the most speed I have ever experienced. The turn was smooth controllable with a good bite. The carve felt similar to the type of carve I can get from my Acid except that it was easier to steer with finer input. As opposed to other boards, the Quad felt "floaty" meaning that it feels forgiving, it's soft on the water. As I got out of the waves, picked up the plane again and did my first jibe, now the same "catchy" thing happened. Only then I knew what it was. I was pressuring the rear of the board too much and slid some. So, I had to change my stance a bit, be less aggressive with my rear foot and started to commit more the whole rail of the board, wow did it feel nice!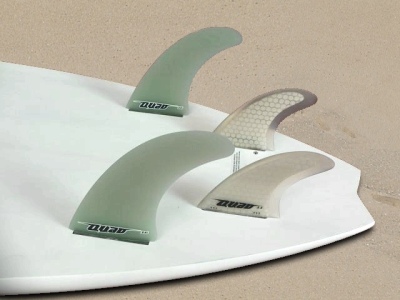 That's what the board wanted, it might have more fins but less side-to-side leverage and likes to have its rail fully engaged. In the 2011 Quad video by Peter Hart (found on youtube), he describes exactly that and says to take it easy on the rear foot. One thing, I'm bad at but it can be convenient sometimes, is to power up the board by pulling on the rear arm to give a little push to the board when dropping in on small side-on waves. The board didn't seem to like that at all. I felt like completely depowering the sail and lean forward to engage the rail. Then, the board was free to glide and accelerate. At the cut-back, the four fins feel like they are all grabbing water to throw up and out, definitely feels pretty good! Going out with the JP, it may have felt a little more secure to go through the white water with a bit more volume up front, although this is hard to review unless I spend more time on the water. Settling in the straps at the drop-in, it has a more firm response and isn't bothered by heavier input, the speed is quite nice down the wave, it's more of a back foot weighing action with a nice carve. The fins provide more grip than the Quad so it's more secure, but maybe not as responsive. The Quad has more speed, I wonder what happens in larger waves, my take is that the added grip and narrower width of the single thruster would be a plus in terms of control and confidence. Photo: Rider setting up for a push loop at Encuentro during the Master of the Ocean 2015 competition. Jibes: Another point about the Quad, when we say that a board is fast down a wave (and headed the other way so particularly useful in side-on conditions), it's also valid at the jibe. When turning the board keeps its momentum which makes it easier to complete jibes and plane through them, exactly what one of the video reviewers said. It almost feels like it springs out of the jibe. This, I believe is due to having more rear volume, freestyle wave boards also do that, but tend to struggle with the chop. The Quad is easier to control and turns more sharply.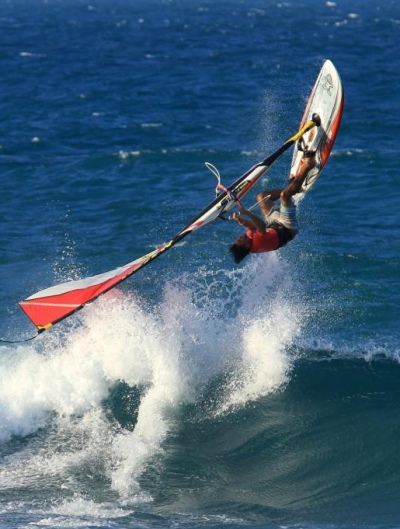 Volume and Performance 2
top ⇧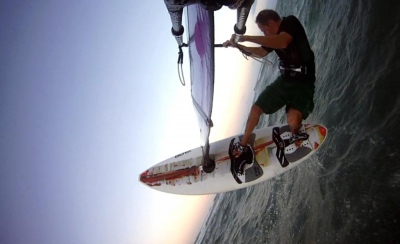 How does it compare to a loose 105L freeride? At the end of the day, I took my 105 out to compare. I have really enjoyed my 105 since new (2006!). The board is a bit slow, but stays in control in high winds, responds well to aggressive turns, and has good float. But for the first time ever, dropping in on a small wave I thought my 105 was terrible! The board slowed down as I was "waiting" for the lip like it had put on the brakes, which prevented me from reaching sections more "behind me." The Quad 86L which has a width of 60.5cm versus my 105L 63cm felt faster to plane and immensely faster on a wave. My take is that it would be too big with a 5.0 for my size, which is exactly what I heard from online reviews as well. It sizes quite large. Jumps: Unfortunately, I didn't have enough planing speed to test the jumping ability of the Quad, reviews describe it as a good jumper, but one has to be wary of the width and angle the board appropriately in the air. As tested earlier, the JP jumps are nice and easy to control, quite reassuring. For my use and size, the quad could be a great low wind board and the 82L JP a great high wind one. One sizing up and the other down would complement each other quite nicely. For intermediate days, I could set the 5.4 on the 82 or a 5.0 on the 86, have four combos, possibly even riding the JP with a single fin too. The JP is narrower which gives me better trim control, but needs more wind to slog comfortably, the Starboard wider and looser would give me more productivity in lighter conditions and more comfort when slogging. And finally this Quad definitely has its place in the bump & jump category as it's fast and quite forgiving.
2010 Fanatic NewWave Twin 86L 57.5cm
top ⇧
Conditions:: Weaker 5.0 (Got better little by little), thanks Club Mistral for letting me try their 2010 Fanatic NewWave Twin 86L. The board had excellent reviews, 86L but 57cm wide, it feels quite a bit smaller than 86. I was semi-powered to powered 5.0. My first impression was that the tail was small and I needed to make sure I kept my weight forward and stay well centered. Planing Ride, Speed and Jumps: The board being a little narrow took some wind to take off, but then showed a nice speed. It was nimble, reactive, and jumped well, on the flip side it was quite technical to ride over big chop. In this snapshot you can see how much tail is in the water and yet I'm nose diving in the chop while planing. This shows that the board needs attention when sailing along and will just not auto-pilot. It wasn't nearly as skatey as the Evo I tried previously, but still lacked drive for my application. The tail just doesn't carry enough power to cruise through lulls when sailing underpowered or hitting wind shadows.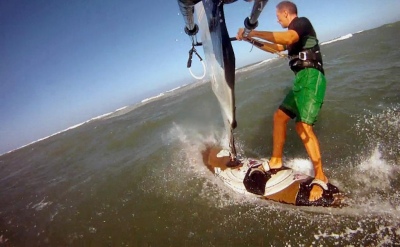 Surf:
On my way back I tried surfing a few swell slopes and wasn't impressed with how quick it was, actually it felt very similar to riding a (too) small single. It didn't pick up speed or kept its speed down the wave as much as the Single Thruster or the Quad. It also didn't correct as quickly as I thought it should at the bottom turn. Now this is in slower waves, a more powerful wave with a cleaner face which generates more speed will certainly fit the board better or maybe for someone with more advanced skills. At the top turn, depending on where the fins sit, they may break loose, the board flattens and slides. Again, I didn't find it much different from riding a small fin. On the snapshot above you can see the board sliding flat on the peak. This can be nice, but can also require more effort to get back into the wave, depends on style, timing, etc. The conditions that day were really tough, lots of current, it wasn't pretty, quite big too. I wish I had tried it in proper waves, but since I need a board that can drive me through wind shadowed side-on waves, at my current level I am not willing to fight an unstable planing ride especially when the board isn't at its best in sloppy waves too!
Upwind ability:
Also, it took me a couple of rides to get back upwind while I had only done a couple of turns, on the Quad, I could do many turns and would end up at the same point without making a particular effort to head back upwind. That said, the Quad is quite over finned! Boardseeker's review was pretty much dead on and this thread confirms my findings:
http://forums.boards.mpora.com/[...]newwave-twin-86
But what causes the ride to be technical?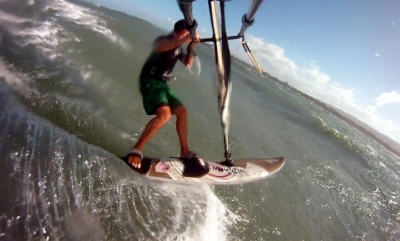 2014 Angulo Chango 73L 54cm
top ⇧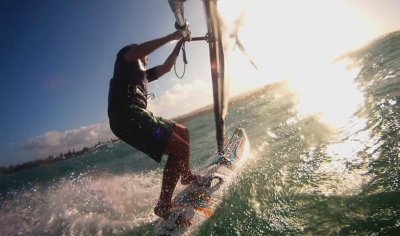 To confirm that a board can be technical even though its volume is higher, I went on and tried a 2014 73L 54cm Angulo Chango. It's the smallest board I have ever sailed both in terms of volume and width. Despite the wind being light for such a board with my weight (70kgs), the volume is distributed out back so it isn't as technical as the numbers suggest. A 21.5cm fin was fitted on it, which was much too big for the board but regardless... The board felt like a soft freewave, quite directional, wide tail, fast, the footstraps were tight and I didn't want to mess with the owner's adjustments. I tried to surf one swell and it felt it was quite slow to turn. Probably a good board for bigger guys in super strong conditions or just bump & jumping around. I found that the board did bounce a bit at the jibe, but a light weight guy here rides it and always duck jibes it without issues. I ended up the most upwind of all boards tested today! The board tracks straight, had a soft touch, was easy to ride without burying rail or nose. Going back on my troublesome Acid
Finally, I changed to my Acid from which I had backed up the fin a touch, more towards the center. It didn't feel back at all. Then I was more powered, the surf felt really nice on it with full rail turns. However, it slows down a lot before the top turn, this is a problem in side-on and where the Quad is so much better. The board's tracking isn't as bad as the Fanatic, but its speed is slower, this is hurting jumps, planing loss threshold and getting to harder to reach peak sections. I would probably like the board better in its 80L version as it does feel long and just "big." Preferred boards: So after testing various boards, for my skill level, for what I want to do right now (surfing as much as possible, hitting the lip, off-the-lip aerials and loops) and the type of conditions I sail, I liked the all-around wave boards the best. The Starboard Quad for a light wind application, maximum wave speed, early planing, mushy water performance including white water, and its stability. The JP Single Thruster for its great jumping, a size that I feel I can handle, speed on a wave with a very secure grip. Least preferred: I found the NuEvo, the Acid and the NewWave Twin to be the most technical boards. In the volume I tried probably better suited for someone heavier or better skilled than me. Multi-fin thoughts: I had always been fan of riding the smallest fin possible on any board. Basically go as low as I can until spin-out becomes an issue. This allowed greater speed, maximize maneuverability, and help with very short turns. However, it does cost some upwind reaching angle and this is when the side fins come into play. They help getting back the angle that was lost and add grip. In a side-on application, a board must turn sharply and quickly, the longer it takes to turn the more speed is lost and the more upwind we'll need to run. Waves size and speed also play a role. A multi fin can transform a slow mushy wave into a delicious surfing ride! Multi fins also help with securing the carve at the bottom turn, while a small single can more easily be upset by chop or user error, a thruster will carve the turn slicing the water with immense grip, it's an amazing feeling. As far as twin fins go, in a light wind side-on application, I found that they lacked a bit of upwind ability to compete with quad or tris. Sure they are looser and quicker to turn, but the ride over heavy chop doesn't feel as planted. For a rider with more skill, more wind or willing to put up with the technical ride, they can be rewarding though.