This site is dedicated to my passion, the sport which keeps me fit, motivated, challenged, intrigued & fulfilled: windsurfing. Here you will find my videos, findings, tips & tricks, and blog from my latest sessions.
You may also visit my page and follow me on Facebook! As a father of two girls, I am fortunate to live minutes away from the windsurfing spot in Cabarete, Dominican Republic. With a background in web development, I created and maintain this website to share knowledge and entertain. As you can imagine, there are costs associated with website hosting, computers, cameras, and other electronics, as well as my time put into making videos, writing equipment tests, updating content, etc. Please contribute by clicking the secure DONATE button in the header, $1, $2, $1000... anything will help! Total donation: $0. More tutorial videos are also planned. Please do contact me with any requests. Happy sailing!
Find all my photo albums with comments
here
.
April 2018: My first session at Encuentro!
We all have our own goals in life, for us windsurfers, the front loop (or forward loop) is one of those moves which inspires us.
The secret of the forward loop
video is one of the best examples of this inspiration. Also known as the spin loop (or speed loop) on flat water, the day I discovered this move on a freestyle video, I knew I had to learn it. While we may hear things like: "It can be learned in one day" or "It's so easy", this move does require full commitment. As an exaggerated airborne catapult, it is easy to understand why the mental barrier can be a challenge.
As I kept coming up with excuses (lack of, or bad orientation of ramps, wind not good, water too cold, too tired, not the right gear, etc.), on the 17th of November 2014, exactly 6 days before turning 40, I decided to use my birthday as a deadline for at least trying loops.
So this is my quest... my Quest to Loop!
This is a section where I try to focus on subjects which aren't commonly found online, which helped fine tune my gear or helped me understand something technically.
Video
Quick Tack or Fast Tack examples on low volume and light Wind. Notice How I pull on the sail as hard as I can and hold the mast for maximum stability once on the other side. You may use the speed setting on the youtube player to slow down the motion.
Video
How I built my custom camera mount!
Video
5 tips to get your mast unstuck!
Video
10 tips to climb white water more easily and protect our gear.
Video
Practice drills on Jibes, Tacks and even the Front Loop, that can be useful when we don't have access to water.
Video
How to prevent the footstraps from twisting.
Video
How to run the downhaul line so that it doesn't cross and is easier to adjust.
Video
Want to know what a sail looks like when using different masts or mast halves?
Video
All you ever wanted to know about windsurfing footstraps and more!
These are some of my latest sessions from Cabarete, Dominican Republic. I average about 200 sessions a year. Conditions vary from bump & jump (with at least 1m waves to jump, only scarce) to massive mast high side wave riding (rare). Most sessions are side-on 15-25 knots with 1.4m to 2.4m waves.
Sometimes I wear a lycra to stay cooler and to put less sunscreen on, sometimes (in the winter 25-27C) I put a shortie on to be comfortable but it's not necessary. (It's easy to become used to the warmth here!)
For videos of my earlier years (on super windy but flat in-land lakes) check out my youtube
channel
.
[Video]
April 2018: First time sailing at Encuentro, 2m waves, a bit out of my comfort zone (sea urchins, shallow waters, etc.) but amazing experience.
[Video]
February & March 2018: My first landed backloops. The first one came as a total surprise. It was the one and only jump for the day where I sailed my 5.0 which I'm not completely comfortable with... crazy feeling!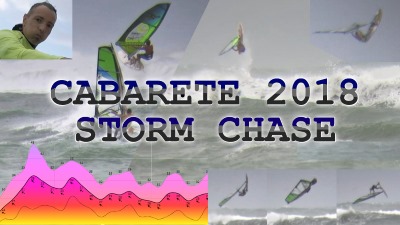 January 2018, a low-pressure system hit Cabarete over three days. Winds varied between 15 and 45 knots in gusts and violent squalls side swiped the spot. Go to the
Storm Chase
page for awesome photos and videos.
[Video]
January 2018: Over a year of sessions summarized in a series of videos demonstrating why I love windsurfing. Episode II.
[Video]
January 2018: Over a year of sessions summarized in a series of videos demonstrating why I love windsurfing. Episode I.
[Video]
July 2017: 3 days working on spin loops, Day 3 is obviously much closer with some decent crashes too!
[Video]
2016-2017: 100% Crash, summary of one year of windsurfing to work on moves. White water climbing, frontside wave riding, backloops, frontloops, wymaroos, jibes, jumps and transitions, but only crashes!
[Video]
December 2015-January 2016: Little wind but strong swell! From 2 to 4m high waves, it allowed me to improve my white water climbing and surf sailing skills.
[Video]
November 2015: Not a whole of wind in November here, perfect opportunity to make a light wind freestyle video!
[Video]
October 2015: Few waves but still windy. After realizing that I wasn't ready mentally for loops, I'm announcing the Return of the Wymaroos!
[Video]
September 2015: Freestyle, wave riding, jumps, and of course the best crashes of the month!
[Video]
August 2015: A little comedy but yet inspiring version of what it can be to windsurf waves with friends along with some tips too!
[Video]
July 2015: Upon landing a light-wind jump, my front foot left the strap and with the back foot still in, my knee got tweaked and the kneecap got dislocated. It hurt like hell but healed pretty fast.
[Video]
June 2015: With an entertainment touch, here are this month's adventures. Jibes, tacks, white water, cutbacks and heli tacks. Do you find Windsurfing HARD?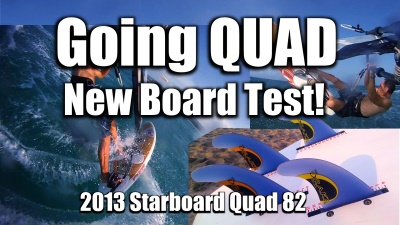 May 2015: After many years, I have finally purchased a new board. Read the full test of my 2013 Starboard Quad 82L
here
on my board tests page.
[Video]
April 2015: Brief summary of the month. Huge jumps with very good wave riding hits.
[Video]
April 2015: The full crew at work, Dominique, Franzie, Tiki & Tony. Surprise visit of Boujmaa Guilloul.
[Video]
April 2015: April was windy but a little disappointing wave-wise. So perfect opportunity to focus on entertainment, enjoy the vid!
[Video]
March 2015: After a long wait, good conditions are back! On the menu: white water, high jumps, loops (not by me... yet), tweaked jumps and front-side wave riding. Changed to 960p, athough it does flatten the water a bit, in the end more gets in the picture.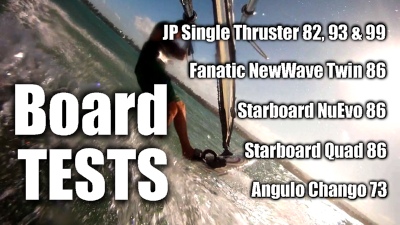 January to Mid-February 2015: Wow wow wooooow, so much rain! Small waves, rare wind, need to be ready to go out whenever. So perfect timing to try various boards without worrying about wasting sessions... On the Line: 2010 Fanatic NewWave Twin 86, 2010 Starboard Quad 86, 2011 and 2012 JP Single Thruster 82, 93 & 99, 2012 Starboard NuEvo 86, 2014 Angulo Chango 74. Find all tests
here
on my board tests page. (Update 3/27/15: now with even more tests!)
Cabarete, Dominican Republic
top ⇧
Here is a little bit about Cabarete, the spot where I live and sail. Located on the North Coast of the Dominican Republic. We pretty much have good winds from late December to end of April, and mid-May until October. Side-on-on to almost side waves, temps in the 80s. Live music on the beach. The center of town is based on the beach pretty much with a strip of restaurants and businesses, as well as a decent-sized grocery store. Smaller (getting bigger) hotels, overall not a huge town (yet).
[Video]
March 2018: A large swell generated by a huge low-pressure system East of the US reached the North Coast of the Dominican Republic and damaged the beached. Sand level dropped and little by little the beach is shrinking.
[Video]
September 21, 2017: Hurricane MARIA at high tide. Waves were reaching even higher up than Irma. Winds were gustier varying between 5 and 55 knots!
[Video]
MARIA at low tide and peak winds blowing close to 60 knots. Here is a link to the aftermath and
beach clean-up
.
[Video]
September 7, 2017: Hurricane IRMA decided to pass 65 miles north of us, generating large swell and gusty winds. I wandered outside in the morning before it got too windy.
[Video]
September 7 & 8 2017: This video is from the afternoon and the next day when rebuilding was taking place. Cabarete didn't sustain much damage, only weak or old wood structure, the odd tin roof, and some trees got affected. Some sand was moved around but overall, things remained unchanged and most importantly didn't flood!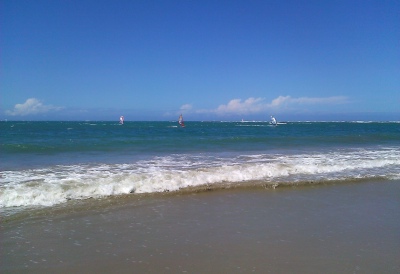 In the summer, this is often the size of the shorebreak even though we can have 4.2/4.7 winds.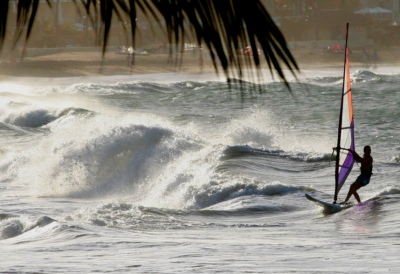 Exceptionally, we can have huge shorebreak (here close to 2m at times) where timing is important especially on semi-sinking wave gear. Even then a strong intermediate can go through, the reef waves can be brutal as seen in the photo below.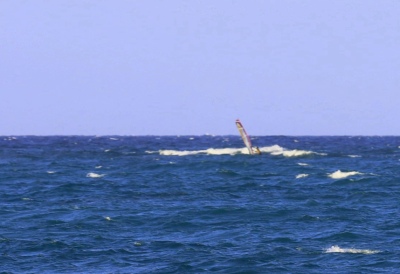 This is about as small as it gets here. Note the few people at the peak!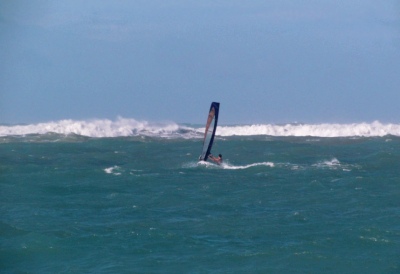 Days like these, the reef can be challenging to go through. There is a channel on the East (right of the reef) where waves are easier to go around but can still form quickly. Also, on the lower part of the reef (more on the West) waves can lose some power and make the whitewater more manageable.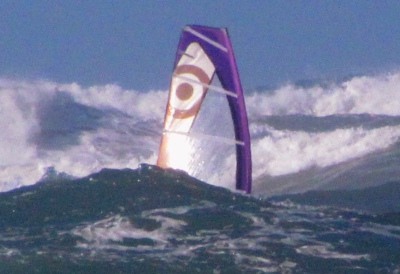 Sometimes visibility can be an issue ;o) !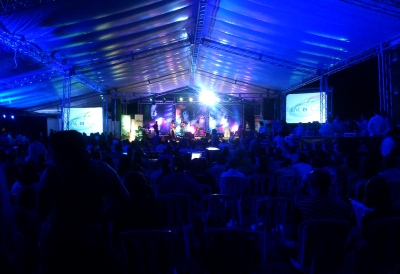 There's an awesome four-day jazz festival which starts in Puerto Plata and ends in Cabarete. It's usually early November.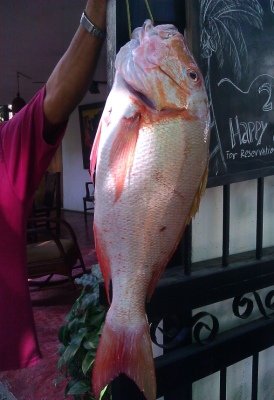 There's lots of fresh fish, crab, lobster, prawns, available right out of the ocean. Doesn't get better than this!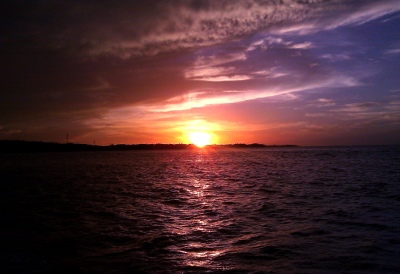 Sunsets in the summer can be fabulous, they are more to the right (to the North) while in the winter it sets more to the left behind the coconut trees, always amazing when sailing out on the water though!