Remembering how difficult it was to find cool windsurfing t-shirts, hoodies, or other clothes, I decided to start making my own! On this page, you'll find many windsurfing related items, from apparel to home decor, cell phone accessories to travel mugs, and much more.
Welcome to my STORE page!
Amazon Store Section
top ⇧
Each of the following designs is available for women, men or kids in a variety of colors.
Windsurfing Backloop
t-shirt
Give Me More WIND
Eyes desperately stuck on
the wind chart!
Windsurf for Life
t-shirt
Proud Windsurfer!!
t-shirt
Windsurfing Defying Science
Periodic Table Elements Design :)
Turning into a kid
when getting a new board?
This is YOUR shirt ;) !
Girl Version
Turning into a kid
when getting a new board?
This is YOUR shirt ;) !
Boy Version
Addicted to your GPS?
Nothing like a full-speed
planing session
Landed your first forward?
Wear this one with PRIDE :)
Enjoy SENDING IT???
You'll make this look GOOOOD!
My RedBubble Designs
top ⇧
Click to explore all available items including wall art, clothes, bags, water bottles, etc.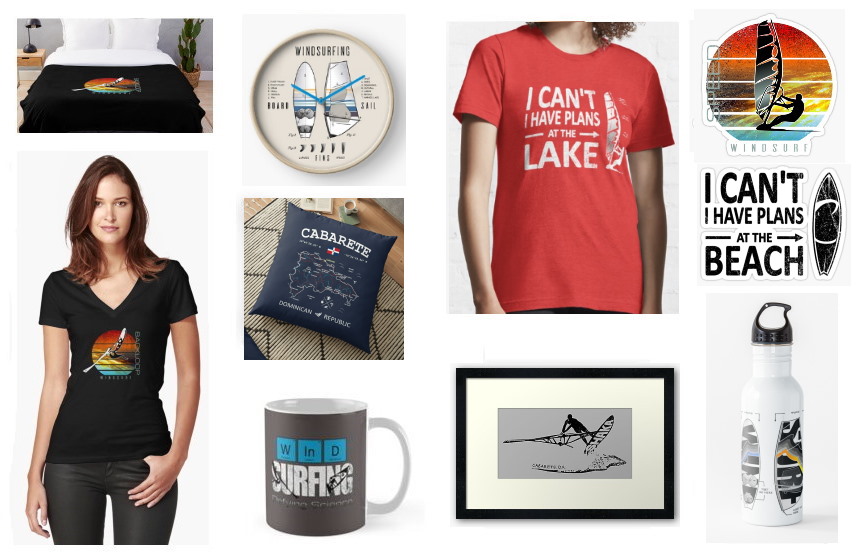 Personal Spreadshirt Store
top ⇧
Here you will find many different t-shirts, hoodies, for women, men and kids, also some accessories. The big advantage of the Spreadshirt shop is that you can even personalize your items! Useful for example with the sleeping child design.
Here are a few more Amazon nice windsurfing material and gift ideas, particularly recommend the Tricktionary 3 book :) !
top ⇧
Some media suggestions on the extreme subject :)
Dakine footstraps and harness suggestions:
top ⇧
Here are some of the products I use and recommend:
top ⇧